engineering equipment for automatic irrigation systems
engineering equipment for control and management irrigation systems
Our companies offer creative water supply solutions and precision automatic irrigation systems for all kind of agricultural projects both in greenhouses and open fields projects.
We produce a wide range of engineering equipment for water supply and automatic irrigation systems. Moreover, we provide engineering design and manufacturing equipment for irrigation, fertilization processes, water filtration and fertigation systems, which is required in all agricultural projects.
Our company LES is a manufacturer and supplier of smart  systems controls from a single stand irrigation equipment unit, which is operated by a single battery controller, to multi-station wireless web-based control systems for fertigation, filtration, irrigation and climate control in greenhouse.
Digital irrigation controllers, smart monitoring and combination of Israeli and Russian technologies make it possibly to automate the whole process, and monitor every stage of the crop life-cycle. In addition, heating and cooling systems, humidification systems to control the climate in greenhouse can be adjusted to different climate zones and will help grow more profitable crops in the most cost-efficient way. So, our engineering equipment produced with the necessary smart controllers that monitor all processes in the irrigation system.
Our engineering systems are designed to increase yield by optimizing irrigation systems, precision fertigation, conserving water resources and reducing energy consumption.
The result: our development and production of complete technological irrigation equipment for greenhouse complexes and for open fields projects allows for a more efficient use of resources and growth of healthier crops. 
Our engineering systems for irrigation solutions
We offer our comprehensive engineering systems for irrigation solutions, consisting of the following units of irrigation equipment: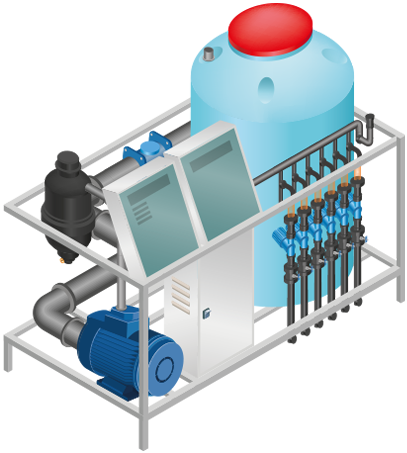 IRRIGATION AND FERTIGATION UNIT
Intended for preparation of a nutrient solution for plants irrigation with a given concentration and acidity.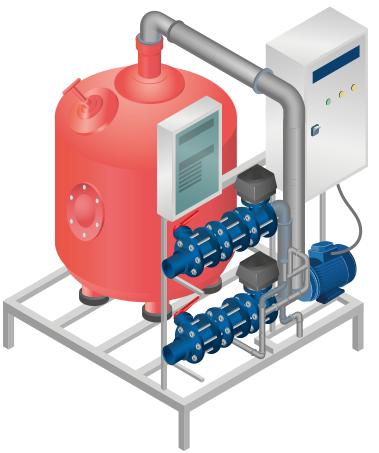 WATER TREATMENT UNIT
Equipment for reducing the amount of bicarbonates by supplying acid to the water and should be installed before water storage tank.
THERMAL DISINFECTOR
Equipment for the destruction of harmful bacteria by heating drainage water to a temperature of 85-95˚С and keeping it for 180 seconds, then, according to the principle of recovery, the water is cooled.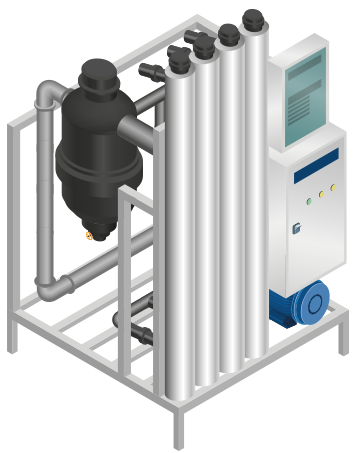 UV DISINFECTOR
Equipment for disinfection transmits ultraviolet radiation through the water, generated by special lamps.
WATER HEATING UNIT
The functionality allows to set an individual temperature for each crop, even they are watered through one solution node. Temperature control is carried out using a three-way mixing valve.
PUMPING UNITS
Provides constant pressure for the technological process in the irrigation system.
FERTILIZERS MIXER UNIT
Provides high-quality mineral fertilizers mixing with a water and filtration of the resulting nutrient solution.
WATER MIXING UNIT
The equipment is designed to supply water to the irrigation unit and to mix clean irrigation water with purified drainage water.
DRAINAGE FILTRATION UNIT
Automated system equipped of the sand and disc filters, allows solving the problem of removing impurities and suspensions from the drainage water.
Irrigation systems scheme with our engineering equipment
Smart monitoring and controllers for irrigation systems
Our Laboratory of Engineering Systems LTD is a manufacturer and supplier of smart systems controls for fertilizer irrigation, water filtration and fertigation automation. An important part of irrigation system managing is irrigation controller that performs control of irrigation through actuators (valves, pumps, variable speed drives, electronic starters, etc.) through a program established by the farmer or farm technician. Smart irrigation management and monitoring  system there are a combination of the both advanced technologies as precise irrigation and smart irrigation controllers. Our irrigation equipment equipped with the necessary smart controllers that monitor a water conservation and treatment systems, fertilizer supply, micro- climate, moisture-related conditions in your agricultural project and, moreover, automatically adjust watering to optimal levels. Moreover, our engineering systems are equipped with controllers for hydroponic system. This automatic irrigation system is ideal for every kind of crops, especially for hydroponic ones, and also adjustable to the water tank, for large and small volume. It is able to apply different varieties of fertilisers and nutrients together and at the same time regulate the pH from the water tank. The control of the pH and nutrient dosage is totally automated. 
Our company has developed a computer software AGRONOMIST , MONITOR. Software MONITOR allows you to monitor all technological processes in greenhouse from a single workstation.
Software AGRONOMIST allows you to select balanced amount of nutrients and to optimize the nutrient solution calculation based on the «price-quality» principle.
And together with automation system, operating with a SCADA program, they responsible for monitoring and scheduling of energy and irrigation resource supply to the greenhouse complex.
Software AGRONOMIST and MONITOR
How to prepare and supply a nutrient solution to the irrigation system?
Nutrient solution is the basis for the full plant growth with drip irrigation. Currently, drip irrigation is widely used in greenhouse vegetable growing with various automated irrigation systems. One of the components of successful operation is the proper preparation of nutrient solution. Read more >>
Evaporative cooling system
The SIOD system is designed to lower the temperature or increase the humidity, in some cases it is used as top irrigation. Consists of a pump and compensated nozzles. It is controlled by both an irrigation controller and a climate controller.
Find the perfect solution for you!
Do you have any questions ? Contact us !